63
rd

Meeting of WSSA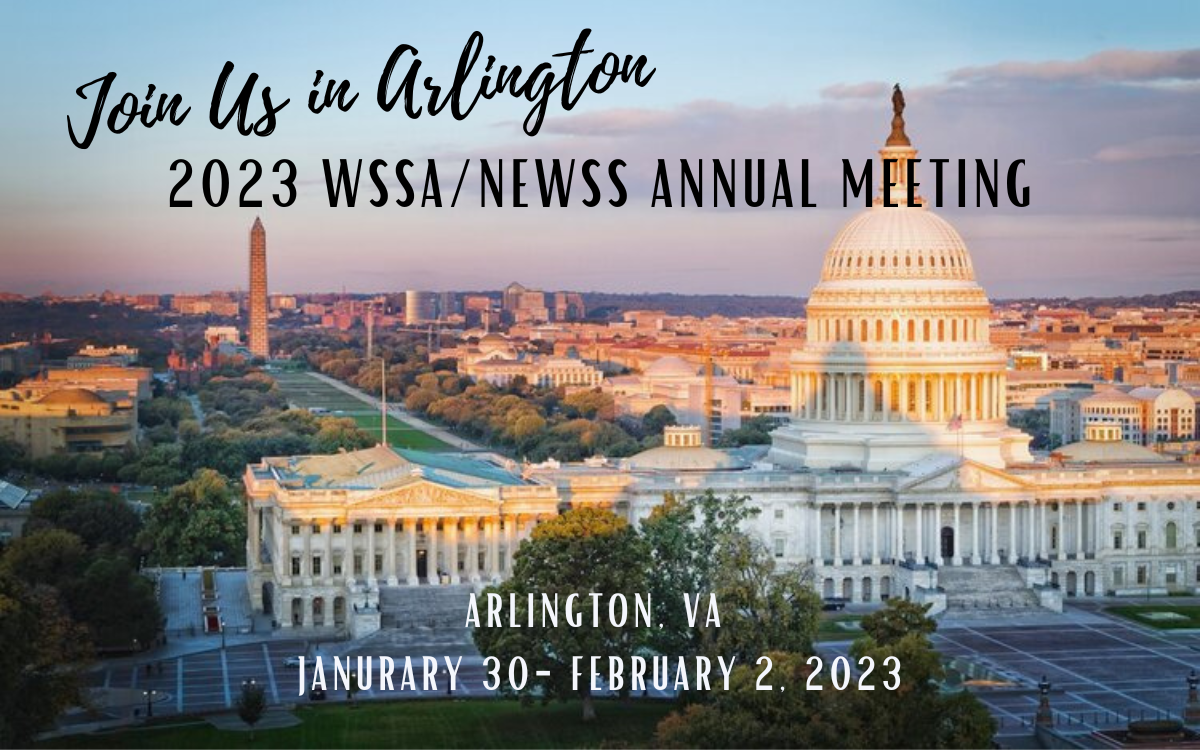 Presented by: Weed Science Society of America & Northeastern Weed Science Society
Where: Crystal Gateway Marriott : Arlington, VA
Dates: Jan 30, 2023 – Feb 2, 2023
Leadership from both WSSA and NEWSS along with their program committees are excited to be working on our first in person meeting since 2020 – no virtual options will be presented.
Arlington is the ideal hub for visiting the Washington region. Many of the region's most popular attractions are conveniently accessible by the Metro subway system, and virtually all of Arlington's 43 hotels are just minutes from one of 11 Metro stations in the County. And Arlington is super-walkable: bike paths, sidewalks and pedestrian-friendly bridges mean you can park your car and head out on foot.
The metro system is the easiest way to visit museums and other sites in Washington DC. The Crystal City station is less than a block from the hotel and it can be reached without going outside. The metro Yellow line between Crystal City and DC (between Pentagon and L'Enfant Plaza stations) will be closed due to bridge and tunnel reconstruction. Passengers can still take the Blue line from Crystal City into DC but this will take an additional 15 minutes.
You will need to buy a SmarTrip card before you get on the train. Learn more and purchase your SmarTrip cards HERE. We suggest you pay $10 for a SmarTrip card ($2 for the card and $8 of fares) to get started. You can always add more value to the card if you travel more. Metro has a nice site for planning trips in the Washington DC area called the Trip Planner. There are many international restaurants in Washington DC and our members should consider trying them. One site suggests how to eat your way through 20 countries without leaving DC.
Meeting registration is live*, please see the brochure link for information on Student activities, Women in Weed Science event, symposia list and all of other information about the WSSA/NEWSS Joint Annual Meeting. There is a tentative event schedule to help plan your travel as well. We are looking forward to seeing you there.
* Up to 50 complimentary registrations are available for Federal Agency employees and Capitol Hill staff. For further information, please email Lee Van Wychen at Lee.VanWychen@wssa.net



2023 Student Contest Score Sheets
Crystal Gateway Marriott
1700 Richmond Highway
Arlington, VA 22202
703.920.3230
Meeting rate: $215 USD/ night
TOUR INFORMATION
Smithsonian Gardens Greenhouse, Production Section – SOLD OUT
Smithsonian Gardens operates a 64,000 square foot state of the art off-site greenhouse facility to support the grounds, gardens, and interiorscapes of the museums. The staff at this facility grow tens of thousands of annual and perennial plants year – round. The site includes 14 greenhouses, and a lathe house, and additional outside growing area for nursery stock. Within the greenhouse complex is space for large tropical specimens, nectar plants for the Butterfly Pavilion, interior plants, and an orchid collection of approximately 6,000 hybrids and species.
Name and title of the person/s conducting the tour.
Monty Holmes, Greenhouse Supervisor
Approximate duration of the tour 1:30 hours
Website www.gardens.si.edu
U.S. Botanic Garden Production Facility – SOLD OUT
The U.S. Botanic Garden Production Facility (PF) greenhouse complex, completed in 1993, includes 85,000 square feet under glass divided into 34 greenhouse bays and 17 environmental zones. Its computerized environmental controls provide flexibility to grow a wide variety of plants including foliage, seasonal displays and exhibits, and all of the U.S. Botanic Garden collection not currently on display such as orchids, medicinal plants, cacti and desert plants, rare and endangered species, and more.
Kyle Wallick, Botanist
Jim Adams, Horticulture Manager
Tour length: 1 ½ Hours
Please note that we will be meeting in the Lobby at 9 am to depart for the tours.
**No waitlist will be formed for the tours, they are sold on a first come first serve basis**
IWGC event information:
The IWGC meeting is directly before the WSSA/ NEWSS Joint Annual Meeting for anyone that is interested in attending! International Weed Genomics Consortium (IWGC) Annual Meeting: Linking Genomics to Improved Management. Jan. 29-30, 2023
Crystal Gateway Marriott
1700 Richmond Highway Arlington, Virginia 22202
Overview
Join us for the International Weed Genomics Consortium (IWGC) Annual Meeting: Linking Genomics to Improved Management conference, January 29-30, 2023, where world-leading expertise in weed genomics, resistance evolution, weed biology, bioinformatics, and data science will convene. The conference will begin a day and a half before the Weed Science Society of America's (WSSA) annual meeting in Arlington, Virginia, on January 29-30 and run until WSSA begins. This event will be pivotal as genomics resources for weed species are limited and not housed in an easily accessible repository, and while genomic information is available for a few weed species, it's not usable to those new to weed genomics. There is often a steep learning curve not only with the biological aspects of the field, but primarily with the computer science and computational tools necessary to conduct such research.