64th Meeting of WSSA
Presented by: Weed Science Society of America & Southern Weed Science Society
Where: Hyatt Regency San Antonio, 123 Losoya St. San Antonio, TX 78205
Dates: Monday Jan 22, 2204 to Thursday Jan 25, 2024
Student Rooms**: https://www.hyatt.com/en-US/group-booking/SATRS/G-WEEE **Please note: Student rooms are very limited.
Are you ready for the joint meeting of the WSSA and SWSS that is as BIG as Texas? We sure are and hope that you will be able to join us in beautiful downtown San Antonio and experience true Southern hospitality.
The goal of both organizations is to deliver one of the most informative and engaging meetings of the year and to have some fun on the San Antonio Riverwalk while we are there. Our meeting program chairmen, Greg Dahl (WSSA) and Todd Baughman (SWSS) are working diligently and doing a fantastic job of planning and organizing a program that will make your trip worthwhile.
An early look at the program includes Wyman Meinzer – State Photographer of Texas as our keynote speaker, 4 outstanding symposia, 3 graduate student events, tours that range from botanical gardens to tequila tasting, plus a host of posters and presentations on the latest topics and technologies in Weed Science.
The WSSA/SWSS Joint Meeting is going to be one to remember and will set the stage for a great 2024! Sure hope to see you there!
Carroll Moseley – WSSA President
Eric Castner – SWSS President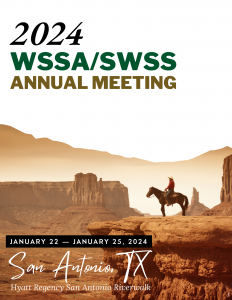 2024 Student Contest Score Sheets
123 Losoya St.
San Antonio, TX 78205
(210) 222-1234
TOUR INFORMATION
Natural Bridge Caverns
Sunday, Jan. 21, 2024 at 10:00 AM
Depart Hotel: 9:00 AM (Meet in the Lobby) — Tour Starts: 10:00 AM
Cost: $45 per person
Tour Duration: 70-75 minutes
Walking Distance: 1/2 mile (.8 km) INCLUDES STAIRS
Tour Depth: 160 ft. (48.77 m)
Cavern Temp: 70°
Relative Humidity: 99%
Flowstones, stalactites, chandeliers, stalagmites, and soda straws are all terms for the formations you'll see in one of the most stunning show caves in Texas. Natural Bridge Caverns, located between San Antonio and New Braunfels, offers a half-mile of surprising sites created one hundred and eighty feet underground by time, rock, and water. The extensive Caverns, discovered and explored in the 1960s by four cave enthusiasts (and college students at St. Mary's University in San Antonio), is marked by a sixty-foot, natural limestone bridge near its entrance. Before accommodating a walk-in pathway for visitors, the cave entrance was a far narrower passage, but not near as limiting as the crawl spaces negotiated by the four spelunkers who spent hours underground on four different occasions before finding the large and spectacular rooms visitors see today.
Discovered completely hidden underground, the Hidden Wonders Tour now takes you through new chambers filled with expertly lit delicate formations, and a natural, spectacular ballroom (available for events!). Featuring the BAT – the Belt Assisted Transport – the only conveyor system ride out of a cavern in the world, and a sound and light show designed to tell the geological story of this incredible cavern. Led by knowledgeable guides, you'll be amazed at the beauty and vastness formed through a process of rock, water, and time.
Meet in the hotel lobby by 9:00 am
Top Golf Graduate Student Mixer
Sunday, Jan. 21, 2024 at 6:00 PM
We are thrilled to offer a joint WSSA/SWSS annual meeting to be held at the Hyatt Regency San Antonio in San Antonio, TX on January 22 to 25, 2024.
To kickoff our meeting WSSA/SWSS members are invited to attend our Graduate Student mixer held at the Top Golf facility in San Antonio, TX. Tee times are between 6:00 – 9:00 pm. See you there!
The price is $25 for Students and $100 for non-students.
Click here to RSVP for our Graduate Student Mixer.
Payment can be made at the time of WSSA/SWSS Meeting Registration.
San Antonio Botanical Garden
Monday, Jan. 22, 2024 at 9:00 AM
Depart Hotel: 9:00 AM — Tour Starts: 10:00 AM, the tour is 90 minutes
Cost: $40 per person
San Antonio Botanical Garden is a world-class garden recognized for outstanding horticulture displays, botanical diversity, education, conservation, and experiences that connect people to the natural world. The Garden embraces the sense of place that makes San Antonio unique and its' tranquil thirty-eight acres serve as a living museum of native and imported plant life for guests to appreciate, learn from, and enjoy.
Recognized nationally for commitment to outstanding displays, botanical diversity, education, environmental stewardship, and experiences that connect people to the natural world, the Garden is a top San Antonio attraction that serves as a museum of plants, a tranquil escape, a living classroom, a research and conservation facility, and entertainment venue where art, architecture, music, and theater experiences come to life.
Iron Cactus Tequila Tasting Tour
Wednesday, Jan. 24, 2024 at 5:00 PM
You'll be able to sample ten different tequilas from over fifty different choices.
Tequila experts and brand ambassadors will be available to guide you through the sampling process and share what makes each spirit special.
The price is $75 per person
Check back for more information.