Journals
The WSSA publishes three peer-reviewed journals. For more information about the journals, check the links below. If you are a WSSA member, please login here to access the journals through the WSSA member portal.

---

Instructions for contributors:

To submit a paper, visit the individual journal submission sites.
Newsletters
The WSSA produces a quarterly newsletter.
Newsletter Archive
The newsletter archive contains older issues
Bookstore:
The following books are available in the bookstore for online purchase. To order a specific book, complete the order form here.
---
Herbicide Handbook
The 10th edition of the Herbicide Handbook is now available for purchase
Price (domestic shipment): $95
Student rate: $50
International shipment: $195
Purchase a copy
---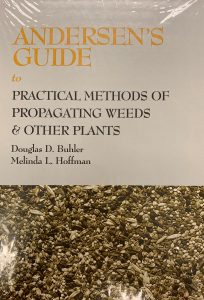 Anderson's Guide
This book is a valuable reference for students, researchers, and educators interested in growing weeds or other plants.
Price: $50
Purchase a copy
---
Invasive Plants of Range & Wildland and Their Environmental, Economic, and Societal Impacts
The book has individual chapters that document several aspects of sixteen invasive species.
Price: $20
Purchase a copy
---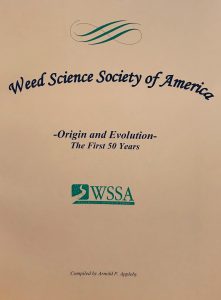 WSSA Origin and Evolution
This book vividly captures the origin and evolution of the Weed Science Society of America.
Price: $15
Purchase a copy
---
Aquatic and Riparian Weeds of the West
It is a valuable reference and field manual for anybody interested in learning more about identification of important weeds of aquatic and riparian systems.
Price: $45
Purchase a copy
---
Weeds of California and Other Western States
This book is an excellent source of information on the identification and characteristics of weeds of California and several other Western states.
Price: $85
Purchase a copy
---
Interactive Encyclopedia of North American Weeds
This award winning DVD-ROM includes 690 weed species with descriptions and maps.
Price: $55
Purchase a copy
---
Weed Bingo
Weed Bingo game for 2-6 players.
Price: $19.95
Purchase a copy
---